Do your software contracts make you want to swear?
We swear so you don't have to.
At Invictus Partners we're the first to admit we swear!
Few things rile us up more than a big software vendor taking advantage of its clients.
We've made it our job to swear so you don't have to. Whether you want to go into a vendor audit on the front foot, or have a clear view of all your software contracts so that you're not over- or under-paying, we can help you keep your calm with independent support and advice.
If you need to gain visibility of your present position and future software licence requirements, establish the negotiation value of your software assets, or understand the compliance implications of making changes within your business - we are here to help. Our team is passionate about taking the BS and chaos out of software licence management, providing better insights to empower choice and freedom.
3 tips for avoiding an "Oh $#!?" moment.
Whether you run SAP, Oracle, IBM or Microsoft, there are three key things you can do to help keep your cool, optimise your licensing costs and increase your compliance. Is your organisation doing them?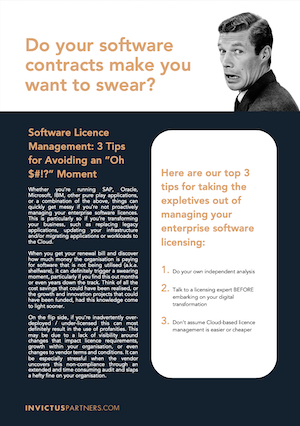 Download tips
Follow these tips to keep your calm when dealing with software contracts and vendors.